There are new plans posted for re-doing Main Street in the offices of the Killarney Urban District Council, although strangely enough the plans on their website only are as recent as 1995.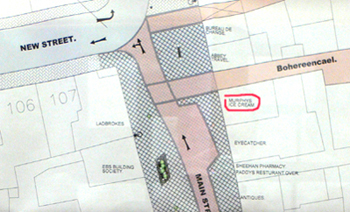 Basically, the idea is to turn Main Street (the home of our Killarney Shop) into a one way system with a wider sidewalk. Unfortunately for us, the wider sidewalk is on the opposite side to our shop, and in front of us they had placed a set-down area and actually narrowed the sidewalk. We lodged a letter of complaint, and it now seems from the new plan the sidewalk in front of us will at least retain its present state (about 4 metres).
They seem to be trying to give the centre of Killarney a more European feel, and we've been pressing hard for outdoor seating, which we feel would be in keeping with that idea. However, there is little movement for the moment. The noises coming from them suggest they are worried about setting a precedent, but the odd thing about that is there is outdoor seating elsewhere in town.
(They also planned on starting to dig up Main Street before the tourist season, and thank heavens they have pushed that back to September.)
We'll have to see what develops, and we will keep pushing…
Although their website is very out of date and not very helpful, the same cannot be said of their parent – Kerry County Council. I couldn't find their plans there either, but they are hip enough to have webcams in both Tralee and Killarney. If the placement was slightly closer to our shop, we could really keep an eye on things!
Technorati tags: plan, Killarney, Kerry, County Council, town, tourist