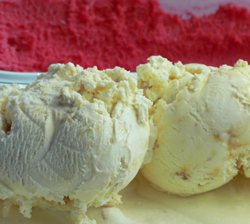 I am still getting used to the Leica I talked about in my last post, and I'm still loving it. I shot the photo above in the scooping cabinet, under its neon light. A great thing about the camera is all the manual settings, including white balance so that colours turn out right under all sorts of lighting. It's the first time in ages that I've bought something that has so far exceeded my expectations! I highly recommend it.
In other news, tickets are coming on sale for the 12th Annual Feile na Bealtaine (6th – 14th May). It is such a lovely time to be in Dingle. Music, art, literature and theatre abound, and it's still low tourist season so it's all very low key and can be enjoyed with a minimum amount of hassle.
The music headliners are the Chieftains, playing on the 14th of May in St. Mary's church, and the tickets are already selling briskly, so anyone interested should contact the ticket office soon.
Other music acts include the Cassidys and Alphastates.
Authors on hand include Draco Jancar (Joyce's Pupil) and Nenad Velickevic (Lodgers), and Manachan Magan is coming to talk about TV and film.
Technorati tags: Dingle, music, festival, bealtaine, leica, literature