New Toy – Photographing Food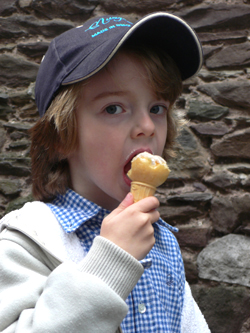 After much frustration with my digital camera, I took the plunge and dropped a bit of cash for a Leica. I was having trouble with the food shots, especially in low light. Rather than go for a huge SLR, I decided to stay compact but invest in something with a great lens.
With the help of a photographer friend, I chose the D-LUX 2Â and ordered it from the UK.
Two days later it was here, and I've had a ball playing. After an ice cream bribe, I even got my nephew to pose!
I can't wait to get it into the kitchen…
Technorati tags: digital, camera, leica, food, photography
This entry was posted on Saturday, April 22nd, 2006 at 3:14 pm and is filed under Tips & Tricks. You can follow any responses to this entry through the RSS 2.0 feed. You can leave a response, or trackback from your own site.