Archive for April, 2006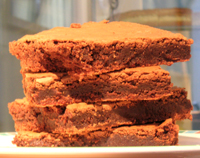 I am giving away the fact that I grew up in the US by my love of brownies. The brownies here in Ireland tend to be way too fluffy instead of being dense and decadent, and sadly people often use poor quality chocolate.
The fluffiness is no doubt due to the flour. It astonishes me that it is next to impossible to get flour without rising agents in Irish supermarkets.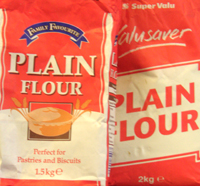 Even most "plain flour" is anything but when you peruse the ingredients. In my mind, plain flour would suggest one ingredient – flour, but that is not the case (look!). Of course commercially there is a great range of flour options but in supermarkets we have just found two flours that are simply flour – Family Favourite Plain flour from Lidl and Supervalu's Valusaver Plain Flour. So check your flour ingredients list (how strange it is to say that!) and make sure it says nothing more than flour if you want to avoid the brownies rising more than they will naturally with the eggs.
The same goes for the chocolate chip cookie recipe I gave here earlier.
Murphys Chocolate Brownies
Servings : 6   Preparation Time : 00:45:00 (including baking)
Categories : Pastries
Amount / Measure /Â Ingredient
250 grams Chocolate (55% cocoa content)
165 grams butter — at room temperature
3/4 tablespoons natural vanilla
300 grams sugar
135 grams flour
3 each egg
Instructions 
1. Preheat the oven to 180 C.
2. Butter and flour an 10 inch square baking pan. Set it aside.
3. Melt the chocolate and butter in a double boiler. Mix until smooth.
4. Beat the sugar and eggs together.
5. Add the vanilla.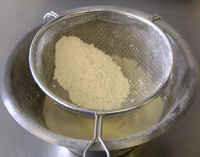 6. Slowly pour in the chocolate and butter, mixing all the time.
7. Sift the flour, then add, mixing thoroughly.
8. Pour the batter into the prepared pan, and bake just until cooked, 25 – 30 minutes (a knife should come out clean).
9. Allow the brownies to cool slightly. Then cut them into squares and transfer to a wire rack to cool completely.
10. Serve with ice cream and chocolate sauce for a truly decadent dessert!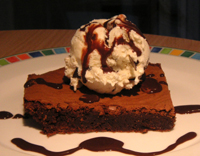 Technorati tags: brownie, pastry, chocolate, ice cream, recipe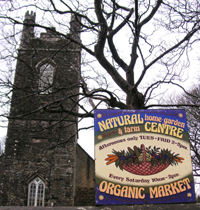 For anyone travelling between Killarney and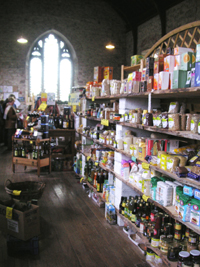 Dingle, I highly recommend a stop in Milltown to visit the market there. Set in one of the prettiest buildings of any Irish market, it is certainly worth a browse, especially on a Saturday, when there are rows of organic farmers, bakers, etc. selling their wares. With a good range of natural products, organic and biodynamic wines, food, and gardening and farming supplies, it makes a very pleasant break to the drive. At the very least you will come away with some snacks, and if you have a green thumb and room in your car, you might come away with all sorts of treats for your garden.
You will find it in the old church on the right as you come into Milltown, down from the school and opposite the petrol station.
The opening hours are Tues-Fri 2-5 and Saturday 10-2.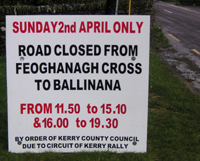 Meanwhile, unless you're car mad, avoid Dingle each year during the rally, which is this weekend. Dingle town is at a standstill today and the roar of cars echo around the peninsula.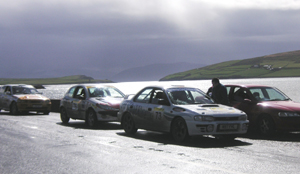 At times like these I get that parallel universe feeling as the whole town is taken over by an entirely different crowd of people than the usual visitors. Besides the racers there are spectators, hawkers of all sorts of racing merchandise, chipper vans just for the event, etc.
The roads are closed to the West, and even Dingle town is virtually impassable as boy racers rev their engines and creep along the streets looking to impress. Confused tourists wander around shell-shocked, a free day on their hands after being told they can't visit sites or tour around the place.
At least this event is not marred by the violence that seems to accompany the Killarney rally, and I guess it is a wonderful thrill for people who live for their cars…
Technorati tags: Dingle, Killarney, rally, Milltown, market, tourism
You are currently browsing the Ice Cream Ireland blog archives for April, 2006.
Recent Comments

Grannymar: Sounds wonderful, Kieran, but I feel left out. Maybe by the...
Grannymar: Wrong colour for today, Kieran! Now I have an excuse to go down to...
Courtney: This sounds extremely appetizing if you are a fan of fresh mint,...
Courtney: This sorbet looks really light and perfect for a summer occasion....
Courtney: This ice-cream sounds perfect for the spring and summer seasons....
Courtney: This butterscotch recipe looks very interesting. The first thing...
Courtney: This recipe looked really good which is what initially grabbed my...

Recent Posts

Categories

Archives