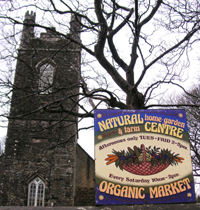 For anyone travelling between Killarney and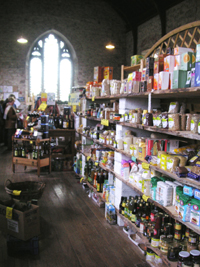 Dingle, I highly recommend a stop in Milltown to visit the market there. Set in one of the prettiest buildings of any Irish market, it is certainly worth a browse, especially on a Saturday, when there are rows of organic farmers, bakers, etc. selling their wares. With a good range of natural products, organic and biodynamic wines, food, and gardening and farming supplies, it makes a very pleasant break to the drive. At the very least you will come away with some snacks, and if you have a green thumb and room in your car, you might come away with all sorts of treats for your garden.
You will find it in the old church on the right as you come into Milltown, down from the school and opposite the petrol station.
The opening hours are Tues-Fri 2-5 and Saturday 10-2.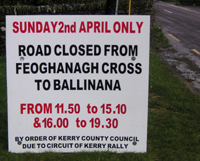 Meanwhile, unless you're car mad, avoid Dingle each year during the rally, which is this weekend. Dingle town is at a standstill today and the roar of cars echo around the peninsula.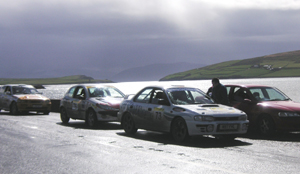 At times like these I get that parallel universe feeling as the whole town is taken over by an entirely different crowd of people than the usual visitors. Besides the racers there are spectators, hawkers of all sorts of racing merchandise, chipper vans just for the event, etc.
The roads are closed to the West, and even Dingle town is virtually impassable as boy racers rev their engines and creep along the streets looking to impress. Confused tourists wander around shell-shocked, a free day on their hands after being told they can't visit sites or tour around the place.
At least this event is not marred by the violence that seems to accompany the Killarney rally, and I guess it is a wonderful thrill for people who live for their cars…
Technorati tags: Dingle, Killarney, rally, Milltown, market, tourism