Honey Lavender Ice Cream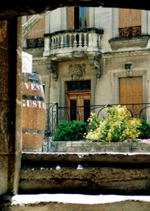 A couple of years ago, I traveled across the South of France with a friend, eating our way from town to town. It was May, the weather was perfect, and the eating was mostly very good. The taste that really stayed with me after the trip, was a pot of honey infused with lavender that I bought at a food market in San Rémy.
It's a funny thing, sometimes I think that we are fools here to work so carefully with ingredients and process. Most ice cream makers would buy their mix and flavours in big tubs from companies such as Pregel and Fabbri. They are the smart businesspeople, and I really mean that. If you want to make money with an ice cream shop and want to make your own ice cream without too much bother, that is how you do it. You save a fortune on labour and ingredients, and a good percentage of customers aren't too bothered.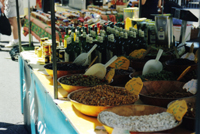 Still, I suppose the world needs a few fools, and I can't get past the taste thing. Fresh ingredients just taste better, and besides it's much more fun to play. For example, I've never seen Lavender and honey ice cream from a mix company! So last year, I put my mind to making it, and I think it's a wonderful flavour. Recently I was asked for the recipe, so I've modified it for home use.
Here it is, if you want to try it. Chances are your kids (if you have any) will hate it, so you can eat it all yourself. Let me know how you get on.
By the way, this may sound strange, but it's a great partner to chocolate cake!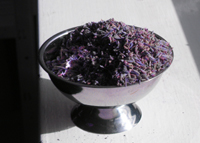 Murphy's Honey Lavender Cream
1 Cup (237ml) Sugar
5 Egg Yolks
1 1/8 Cups (266ml) Cream
1 1/8 Cups(266ml) Milk
2 Tablespoons Lavender Flowers
2 Cups (475ml) Water
3 tablespoons liquid honey
1. Cook the lavender flowers in the water over low heat until the water has reduced to 1/10th of the volume.
2. Remove from the heat and strain. Stir in the honey.
3. Beat the sugar and egg yolks together until thick and pale yellow.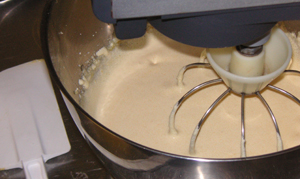 4. Bring the milk to a simmer.
5. Beat the milk into the eggs and sugar in a slow stream.
6. Pour the mixture back into pan and place over low heat. Stir until the custard thickens (around 70C). Use a thermometer, as at 75C the eggs will scramble!
7. Allow the custard to cool.
8. Mix in the lavender and honey.
9. Whip the cream.
10. Gently fold in the custard.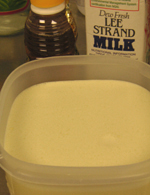 11. Freeze using a domestic ice cream machine, or cover and place in the freezer.
Yield: 6 Servings
Notes:

1. I suggest you use a simple, liquid honey. Darker or more complex honeys will have a very strong flavour, so in that case use less!

2. Lavender flowers should be available at your local health food shop.

Technorati tags: lavender, honey, flower, ice cream, recipe
This entry was posted on Tuesday, February 28th, 2006 at 4:02 pm and is filed under Ice Cream. You can follow any responses to this entry through the RSS 2.0 feed. You can leave a response, or trackback from your own site.