We have been thinking a lot about flavours and what we offer in our shops, and perhaps for 2010, we will change our offerings in a fairly radical way.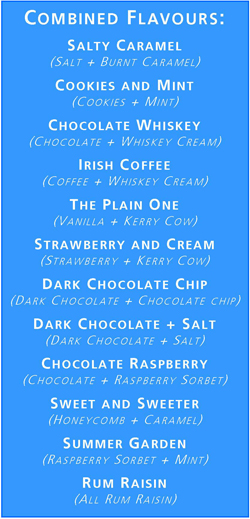 Instead of offering one scoop, two scoops, etc., each portion (small, medium, large) could be made up of two flavours.
This would allow us to design flavours that go well together, and it might be a more fun and satisfying way to offer ice cream.
Each flavour might be simpler in itself, but in combination it could be complex.
So, for example, we could make salt ice cream and a strong caramel. Not too exciting, perhaps, but together they could be fantastic.
We could make honey ice cream and lavender ice cream, instead of an ice cream that is both. That way, the possibilities would be endless. Not only could people mix the two to create our classic honey lavender, but they could also have lavender and chocolate, lavender and coffee, lavender with strawberry (all of which are very tasty). They could also have honey vanilla, honey and chocolate, etc.
Naturally, if people still wanted simply a scoop of honeycomb or vanilla, they could still do so.
What do you think? Is it a good idea? Is it too complicated? Confusing?
I'd love your feedback. Please comment, or there is a poll below.
[poll id="8″]