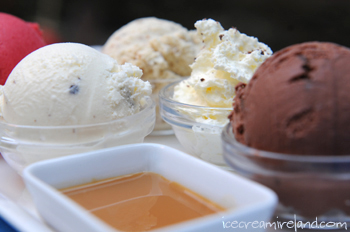 We've decided to try out the deconstruction idea in our Dingle and Killarney shops. We'll see how it goes for a few weeks and hopefully then expand it across the business if all parties agree it's a good idea.
Again, the idea is to have simpler flavours and then sell them in pairs. The flavours will be designed to go together, so that two simple flavours, when paired and served together, will create a complex flavour (such as sea salt + caramel = salty caramel, or raspberry sorbet + Kerry cream = raspberry cream, etc). Hopefully it will make for a more exciting, customisable ice cream experience, although people will still be able to have a single flavour if that's all they wish to have.
We've already started the process by switching over some flavours and changing others. Here will be the 16 spring flavours:
Vanilla
Dark Chocolate
Chocolate Chip
Honeycomb
Raspberry Sorbet
Kerry Cream
Burnt Caramel
Chocolate
Coffee, Guinness, or Brown Bread
Kilbeggan Whiskey
Sea Salt
Cookies
Baileys
Rum Raisin
Mint
Strawberry
We haven't yet made all of them, but we have made the sea salt and Kerry cream, and so far customers really seem to be loving those two! The sea salt ice cream, though weird on its own, is a delight with caramel or dark chocolate, and the Kerry cream is such a pure flavour that goes with just about anything.
It's a work in progress.