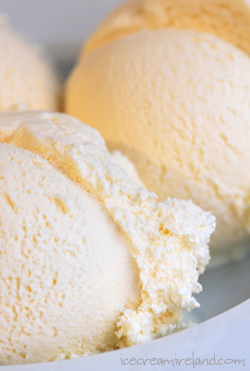 Here's one of our new flavours. I think there are many uses for sea salt ice cream – it can really lift the flavour of a range of desserts, and we've brought it in to complement our new caramel and dark chocolate flavours. It's certainly caught people's imaginations, and it's selling better than I would have thought.
It's a simple recipe to make, but I do have a caution in that various salts can taste so different, so depending on the salt you use, you might well need to adjust the recipe. I don't think it should be too salty – just enough to boost other flavours.
I made my own sea salt. If you're near the sea and have the inclination, here's how I did it.
MURPHYS SEA SALT ICE CREAM
Ingredients:
• 120g sugar
• 5 egg yolks
• 220 ml cream
• 220 ml milk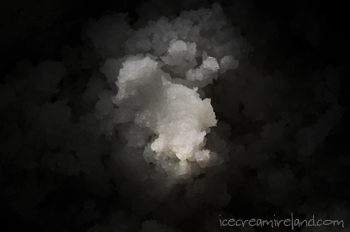 • 2 teaspoons sea salt
What to do:
1. Beat the sugar and egg yolks and until it thickens and lightens in colour.
2. Bring the milk to a low simmer.
3. Beat the milk into the egg/sugar mixture in a slow stream.
4. Pour the mixture back into the pan and place over low heat.
5. Stir continuously until the custard thickens slightly (around 65-70C) and just coats the back of a spoon. Don't over-heat, though, because at around 76C you will scramble the eggs!
6. Immediately remove from the heat.
7. Allow to cool.
8. Stir in the salt.
9. Whip the cream until it has doubled in volume (you should have soft peaks – don't over-whip).
10. Fold (gently stir) in the custard.
11. Freeze using a domestic ice cream machine.
You can also just cover and place in the freezer, stirring every few hours.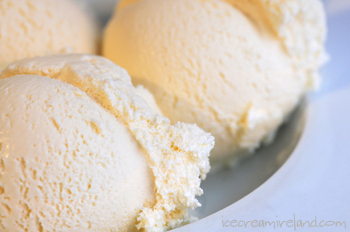 Yield: 8 servings
Notes:
1. Again, you may need to adjust the quantity of salt depending on which salt you use. We also really like Maldron salt, but I'd use about 20% less, since it's saltier than Dingle sea salt!
2. To pasteurise the eggs, heat the custard to 73C and maintain that temperature for at least 5 minutes. Use a cooking thermometer, though, and keep stirring! If the custard goes any higher than 76C, the eggs will scramble. Immediately cover and place in the freezer until cool.