I finally get to meet her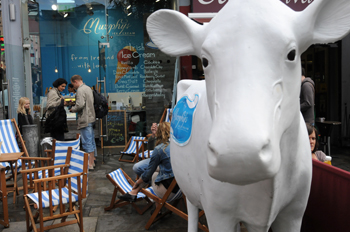 I finally got to meet our new cow, who lives in and about our Temple Bar shop. She still hasn't been painted, and she still doesn't speak, although we hope to have her speaking tomorrow (I'll try to take a video).
If you have ideas of a name for her, please share!
This entry was posted on Thursday, August 12th, 2010 at 12:20 am and is filed under Dublin Shops. You can follow any responses to this entry through the RSS 2.0 feed. You can leave a response, or trackback from your own site.