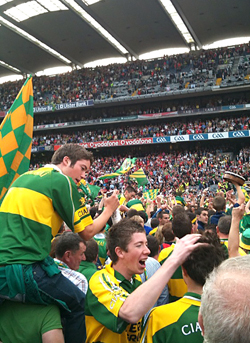 I am back in the Kingdom of Kerry where there is a deep satisfaction as a sense of order has returned with Kerry once again winning the All Ireland Senior Football Championship. There are a lot of tired people around, but their eyes are lively and there's not much interaction needed beyond a knowing smile.
This will not go down as one of the best years in Gaelic football, but neither will it be forgotten in these parts as our two Dingle men played extremely well and the mighty Ó Sé family collected another trio of All Ireland medals. I can only imagine the disappointment in Cork.
The weekend was a good one – our seats were great, the result was right, and we had a fabulous meal in Pearl Brasserie. It's a restaurant that has shot to the top of Dublin's culinary scene, and the accolades are well deserved. If you don't know it, seek it out!
There was, however, an event that marred the weekend – a couple who were to join our party for dinner lost their eldest son, a 16 year old boy with a bright future. Our thoughts and condolences go out to the entire Ashe family.