Plain or Chunks? Is it a Gender Thing?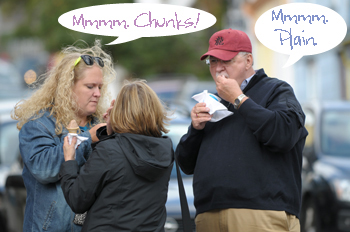 The Ice Cream Journal put me on to the story that Mintel, a food research company, conducted a study that showed that 70% of men prefer plain flavours of ice cream such as chocolate or vanilla, while 74% of women like their ice cream with chocolate chunks or candy bits. However, that seems to be just a first preference since 66% of women also eat plain flavours and 63% of men also indulge in the fancy stuff.  
The only real loser is fruit – only one in three of either sex would choose fruit ice cream.
What do you think?

Loading ...
This entry was posted on Tuesday, September 15th, 2009 at 6:59 pm and is filed under Musings. You can follow any responses to this entry through the RSS 2.0 feed. You can leave a response, or trackback from your own site.