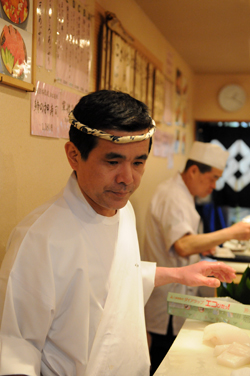 Tomorrow, we leave early to go back to Ireland, and I thought I should make my last post about sushi.
In terms of food, it's what I will miss most. In case you were wondering, although we had many good meals, the best sushi we had was a lunch at the Tsukiji Fish Market (both photos) in one of the alleys and a heavenly dinner tonight.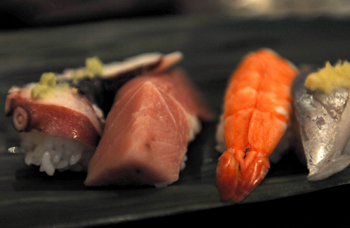 We were lucky enough to meet a Japanese food writer on this trip, and she brought us to an old-school sushi place in a quiet part of town. There was no glitz or glamour here and no crowds, just a serious sushi master and the best cuts of the best fish.
If you're in Tokyo, check it out: Katori-Zushi, 3-7-10 Kiyosumi, Koto-ku, Tokyo. It's just by the Kiyosumi-Shirakawa metro station.
Technorati tags: Japan, Tokyo, sushi, travel, restaurant