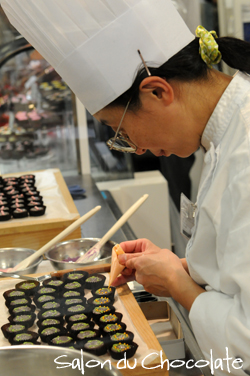 Sometimes life is full of serendipity, and happening to be in Tokyo during Salon du Chocolat is a very happy coincidence indeed.
It seems that the "wakai josei," or young Japanese women, are in the habit of buying chocolate for male friends, fiances, husbands and bosses during this time of year as a harbinger of happiness. (Irish woman please note – this is a very good idea!)
Actually, a Japanese friend here said that most Japanese men don't like chocolate at all and that their sisters and mothers usually end up with the treats. That is a shame!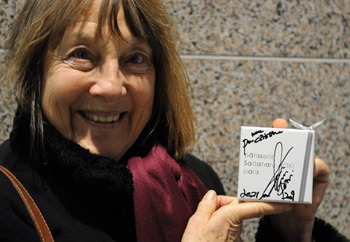 Many European chocolatiers are here, including Marcolini, Herme, Neuhaus, etc., and a number of Japanese ones as well. 
We managed to meet Sadaharu Aoki, and my mother even got him to sign a box of chocolates for her.
I might have to go back tomorrow. Happy days for a chocoholic!
Technorati tags: Japan, Tokyo, chocolate, travel, salon du chocolat