A Little Bump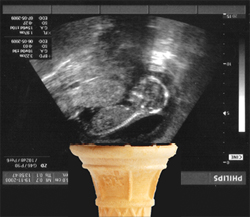 I wrote some time ago about ice cream and fertility, and it would appear that ice cream is indeed powerful, since my girlfriend (and serious ice cream-o-holic) has become pregnant. As you can see from the scan above, there is little doubt as to the father.
So there it is, and fingers crossed. The times they are a changing. God willing, there will be another little ice cream eater in this world come May.
This entry was posted on Friday, November 21st, 2008 at 12:24 pm and is filed under Musings. You can follow any responses to this entry through the RSS 2.0 feed. You can leave a response, or trackback from your own site.