Food & Wine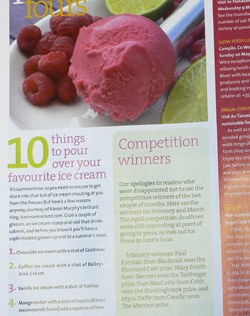 I'm happy to say we have three (!) mentions in this month's Food & Wine magazine. (Their website seems to be down, but I'll try to put in a link as soon as I can). Their summer issue is well worth a read, containing as it does their "Hot 100″ list. It contains quite a few references to Spain, which is no surprise given how chic Spanish food is at the moment, but more about that and my trip later. 
Besides listing our Killarney shop and a piece on us under food producers, they also used my ice cream drink ideas on the back page. Talk about blogs meeting mainstream media…
Technorati tags: Food & Wine, food, magazine, press, Ireland
This entry was posted on Thursday, April 26th, 2007 at 12:56 pm and is filed under Awards, Press, Publicity. You can follow any responses to this entry through the RSS 2.0 feed. You can leave a response, or trackback from your own site.