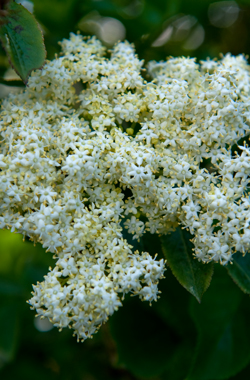 Elderflowers are one of the joys of early summer, and one of the easiest, most delicious and satisfying summer treats is homemade elderflower 'champagne.' Creating champagne with nothing but water, sugar, lemon, and a few flowers is magic. It's also a great excuse for a foraging walk and costs nothing except a bit of time.
The elderflowers need to be free of pesticides and other contaminants, and I find the best containers for fermenting the champagne are plastic sparkling mineral bottles. They are well able for the pressure, but they need to be clean!
Elderflower Champagne
Ingredients:
2.5 litre bucketful of elderflowers
1 lemon
1 kilo sugar
4.5 litre water
Yield: 5 litre bottles
What to do:
Heat the sugar and a litre of water, stirring until the sugar dissolves. Allow to cool.
As soon as possible after picking them, carefully rinse the elderflower heads and place in a clean, 6 litre bucket or pot.
Pour in the rest of the water.
Stir in the cooled sugar syrup.
Cut the lemon, squeeze in the juice, then put in the lemon as well.
Cover with a clean cloth, and leave for 2 days, stirring occasionally.
After two days, strain away the flowers and lemon and pour into clean, empty mineral bottles. Cap them tightly.
Leave the bottles for two weeks. If there is any sign of bulging, open the cap to release the pressure; then reseal.
Enjoy!
Note: I have only made this once, and it came out perfect – fully carbonated, nicely alcoholic, and very tasty. I opened one bottle every few days and tasted it, just to see how it was coming along, and I recommend you do the same. If you try this recipe, I'd love feedback!
Technorati tags: elderflower, champagne, elder, recipe, brewing