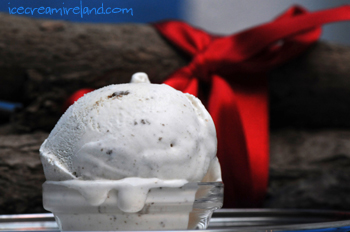 There are many kinds of gingerbreads out there, and people certainly have their preferences – how dark, how sweet, how spicy. The good news about making gingerbread ice cream is that you can use whatever gingerbread you like, so you'll definitely like the ice cream! Whether you use gingerbread you have made or gingerbread you have bought, this makes a great festive ice cream. I've spiced it up a bit, but you could leave the spices away if you like a plainer ice cream, and simply substitute a bit of vanilla.
MURPHYS GINGERBREAD ICE CREAM
Ingredients: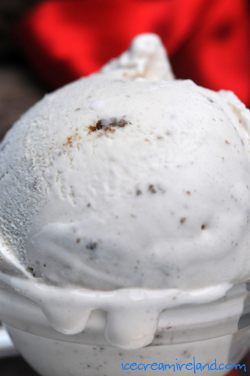 • 120g sugar
• 5 egg yolks
• 220 ml cream
• 220 ml milk
• 1 teaspoon ginger
• 1/4 teaspoon cinnamon
• 100 g gingerbread (broken into small pieces)
What to do:
1. Stir the cinnamon, ginger and sugar together.
2. Add the egg yolks and beat until thick.
3. Bring the milk to a low simmer.
4. Beat the milk into the egg/sugar mixture in a slow stream.
5. Pour the mixture back into the pan and place over low heat.
6. Stir continuously until the custard thickens slightly (around 65-70C) and just coats the back of a spoon. Don't over-heat, though, because at around 76C you will scramble the eggs!
7. Immediately remove from the heat.
8. Allow to cool.
9. Whip the cream until it has doubled in volume (you should have soft peaks – don't over-whip).
10. Fold (gently stir) in the custard.
11. Freeze using a domestic ice cream machine, adding the gingerbread when it's fairly solid.
You can also just cover and place in the freezer, stirring every few hours, and again, add the gingerbread when it's reasonably solid.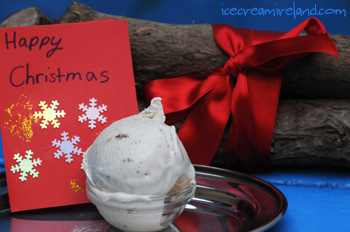 Yield: 8 servings
Notes:
1. The reason to add the gingerbread at the end is that otherwise it can sink to the bottom of the ice cream as it is freezing and won't be evenly mixed through it.
2. To pasteurise the eggs, heat the custard to 73C and maintain that temperature for at least 5 minutes. Use a cooking thermometer, though, and keep stirring! If the custard goes any higher than 76C, the eggs will scramble. Immediately cover and place in the freezer until cool.
Technorati tags: gingerbread, holiday, ice cream, recipe