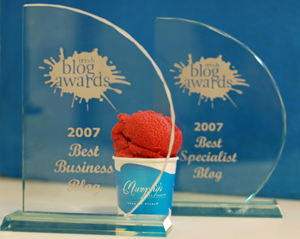 I'm delighted to announce that we have come back from Dublin with two awards from the Irish Blog Awards – Best Business Blog and Best Specialist Blog. Thanks again to everyone who voted in the first round, to the judges, the sponsors, the organisers, and to all our readers and customers.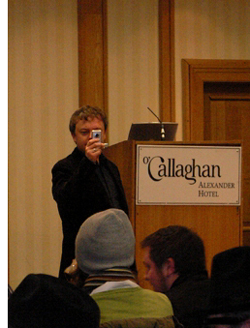 It was a good night. Rick O'Shea did a great job as MC, and of course Damien pulled the whole thing off with style. The best moment for me was when Bernie Goldbach pressed his award on Damien, who certainly deserves acclamation. Pure class.
I enjoyed meeting fellow bloggers, including the nominees for the business award who were very gracious and definitely worth keeping an eye on. Krishna De, by the way, has posted the podcast of all of us here.
Others I finally met were Conor O'Neill (congrats!), Copernicus, Winds and Breezes, Vals Kitchen, Keith, and more…
Congratulations to all of the winners and all of the nominees.
I wish my brother had been along, because he would have enjoyed it. Besides, Sean is much more outgoing than I, and I'm sure we would have met many more people! My mother was kind enough to join me, and I thank her for it…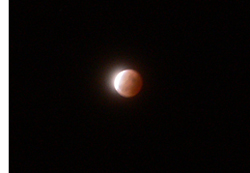 I was tired from all the travel and didn't stay very late. However, when leaving, we had a good look at the lunar eclipse. I didn't have at all the right camera or lens, but this will give you an idea if you missed it.
It seemed a perfect way to end the evening, standing outside the hotel in the middle of Dublin with a big group of other bloggers, watching the moon disappear…
Technorati Tags: Irish Blog Awards, Awards, Dublin, 2007, lunar, eclipse