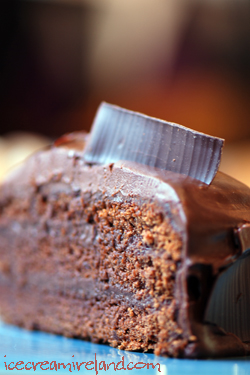 Since we've introduced waffles into our shops, we've been offering cake less often. However, in the days when we were selling lots of cake, Wiebke's Fudge Cake was our best selling chocolate cake, and we still have it from time to time.
Its appeal is broad enough that you can serve it to grown-ups at any special occasion and be sure that it will go down a storm. For events with lots of smaller kids you could serve it cut in to little finger size pieces.
If you know that all of the people eating the cake prefer dark chocolate, simply substitute the 50% for 70% and satisfy those chocolate cravings!
It is perfect with vanilla ice cream.
This recipe was adapted by Wiebke (my brother's wife) from a recipe from The Joy of Cooking.
Wiebke's Fudge Cake
Ingredients
• 215 g butter – cut into pieces and slightly softened
• 15 g butter for greasing baking pan
• 400 g sugar
• 115 g 50% semi-sweet chocolate
• 3 eggs
• 275g non-rising plain flour
• 2 tsp. bread soda
• 250 ml buttermilk
• 1 tsp. vanilla essence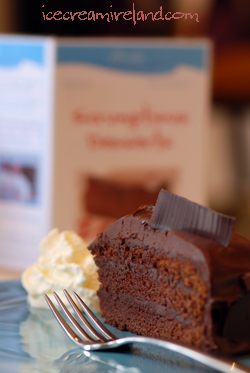 For the Ganache:
• 80gm butter
• 180gm 50% chocolate
• 180gm 70% chocolate
• 350ml cream
What to do:
1. Place the chocolate in a double boiler to melt.
2. Put the butter and sugar in the mixer and begin to mix.
3. Add eggs one by one by breaking into a plastic jug first and then adding to mixer.
4. Scrape the mix from the sides and bottom of mixing bowl.
5. Continue mixing.
6. Add the fully melted chocolate.
7. Continue mixing.
8. Combine flour and soda and sieve carefully.
9. Add ? of flour/soda and 125mls of buttermilk to the mix and mix on slow speed.
10. Add the next ? of flour/soda and final 125mls of buttermilk. Mix.
11. Add final ? of flour/soda and mix well.
12. Add 3 drops of "Massey" Vanilla.
13. With the dough now well mixed add 150mls of boiling water and continue mixing.
14. Grease and then lightly flour the bottom and sides of the baking pan.
15. Pour the dough mix into the baking pan.
16. Bake in preheated oven @ 180 °C x 45 minutes.
17. Remove baked cake from oven and flip upside down.
18. Leave to cool on cooling rack for at least 2-3 hours.
Making the ganache:
19. Melt 60 g butter in a double boiler.
20. Add 180 g of 70% & 180g of 50% chocolate to the double boiler and melt. Keep temperature to 35 – 45 °C
21.  Warm the cream in a saucepan.
22. Stir the warm cream into the melted chocolate, and keep stirring until smooth.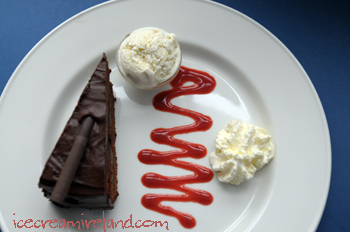 Decorating:
23. Carefully cut the cake horizontally twice, to make 3 layers. Cut into two if you have to.
24. Add the fudge sauce between the layers and on top.
25. Coat the fudge around the sides.
26. Decorate with chocolate shavings.
Note: I must admit I haven't made this cake (leaving it to the expert always seemed a good idea to me!), so if you make it any feedback would be doubly welcome.