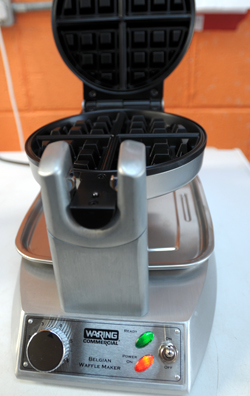 We've received our commercial waffle maker, and today we launched waffles in our Killarney shop. Customers seem well pleased!
I promised a recipe, so here it is – one from my mother – with the substitution of buttermilk for regular milk, which I find makes them even tastier. We serve them with vanilla ice cream and chocolate sauce, but there are countless ways to enjoy waffles!
If you're looking for a waffle maker in Ireland, Brown Thomas has a good Cuisinart one for 79 euros. Lidl had a special on waffle makers last week (20 euro, but the waffles come out pretty thin) and might have a few still kicking around. 
Sophia's Buttermilk Waffles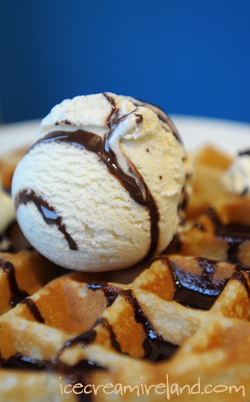 Ingredients:
225 g flour
1.5 teasp baking powder
3 eggs
70 g butter, cut into small pieces
350 ml buttermilk
1/2 teasp salt
2 tablespoon sugar
1/4 teasp cinnamon
1/2 teasp vanilla
What to Do:
Sift the dry ingredients, except for the sugar, together. 
Separate the eggs.
Add the sugar to the egg yolks and beat together. 
Beat egg whites until stiff but not dry.
In a small saucepan, over low heat, warm the butter and buttermilk, stirring all the time, until the butter melted. Do not overheat!
Pour the buttermilk and butter into the dry ingredients, stirring until somewhat smooth. 
Add the egg yolks and vanilla, and stir until incorporated. 
Gently fold in egg whites
Cook according to the instructions of your waffle maker.
Technorati tags: waffle, buttermilk, recipe, ice cream, dessert