Nothing Like a Good Waffle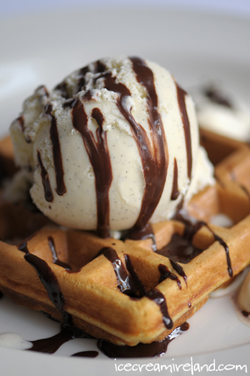 Here's what I've been working on – waffles and ice cream. It is, we think, a great option for the winter in our shops, especially this winter with all the gloomy recession talk and abounding worries. Hopefully a warm waffle with ice cream will be pure luxurious comfort for our customers. Somehow, I think, it's also quite appropriate in terms of all the recent news and government climbdowns :-).
I still haven't the recipe quite right, but I'll post it when I do!
Technorati tags: waffle, ice cream, dessert
This entry was posted on Wednesday, October 22nd, 2008 at 8:19 pm and is filed under Musings. You can follow any responses to this entry through the RSS 2.0 feed. You can leave a response, or trackback from your own site.