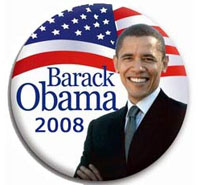 I hate to bring politics onto these ice cream pages, but I feel I must write a few lines just expressing the relief and hope for the future after last night's election results in the US.
As someone born in NY, I was raised on hope and dreams – that people can make a difference, that one can succeed in life on merit, that the U.S. is fundamentally good. There have been serious questions  raised about all of those under the out-going administration. 
I don't believe by any stretch that all problems will be solved with Obama as President, but I do feel this election will bring about real change in terms of what people (both in- and outside the US) believe is achievable, and that is a very, very good start.