WiFi in Killarney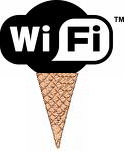 I'm happy to announce that we're now offering free WiFi to customers in our Killarney shop. So, if you're a visiting blogger, business person on the road, or a tourist with a laptop and the need for broadband, come in for an ice cream or a coffee and ask for the password!
Technorati tags: WiFi, Killarney, Kerry, Main Street
This entry was posted on Friday, November 7th, 2008 at 8:32 pm and is filed under Killarney. You can follow any responses to this entry through the RSS 2.0 feed. You can leave a response, or trackback from your own site.