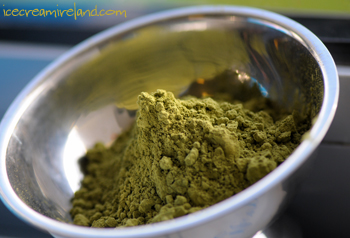 Although I love green tea, I'm not sure that I'm really a fan of matcha. We had a request from a restaurant to make matcha ice cream, however, and we went to work. For green tea ice cream (or as a hot drink), I prefer using a green tea leaves, since the flavours are more complex and delicate, and I have a recipe for that here.
That being said, if you've had green tea ice cream in a Japanese restaurant and loved it, it's almost certain it would be made with matcha. It's a very different ice cream, more earthy with more kick, and I can understand why many people prefer it. Just so you know, matcha is usually quite strong, so I don't add a huge amount. The strength could well vary, depending on the matcha you buy, so as always, use your tastebuds and if you want to add more, do so!
Here's our version:
Murphys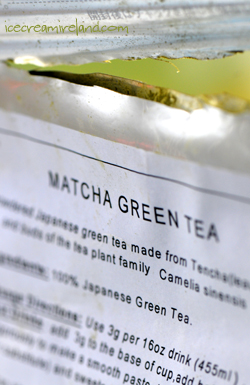 Matcha Ice Cream
Ingredients:
130g sugar
5 egg yolks
240 ml cream
220 ml milk
5 g matcha
What to do:
Put the milk in a saucepan and bring to a simmer.
Remove from the heat.
Mix the matcha with the sugar until there are no lumps.
Beat the sugar and egg yolks together.
Beat the milk into the eggs and sugar in a slow stream.
Pour the mixture back into the pan, and place over low heat.
Stir continuously until the custard thickens slightly (around 65-70C) and just coats the back of a spoon. Don't over-heat, though, because at around 76C you will scramble the eggs!
Immediately remove from the heat.
Transfer the custard into a small container, cover, and refrigerate until cool (5C).
Whip the cream until it has doubled in volume (you should have soft peaks – don't over-whip).
Fold the cream (gently stir) into the custard.
Freeze using a domestic ice cream machine.
You can also just cover and place in the freezer, stirring every few hours.
If you're using a domestic ice cream machine, transfer to a freezer-proof covered container when the ice cream has achieved a semi-solid consistency (around 15 minutes). Place it in the freezer, and continue to freeze until it is solid.
Notes:
To pasteurise the eggs, heat the custard to 73C and maintain that temperature for at least 5 minutes. Use a cooking thermometer, though! If the custard goes any higher than 76C, the eggs will scramble. Immediately cover and place in the freezer until cool.
For our regular green tea ice cream, I like to add crystalised ginger, so do so if you wish (add it when you're freezing).
In case you're having trouble finding matcha in Ireland, we bought our's from the Espresso Warehouse.