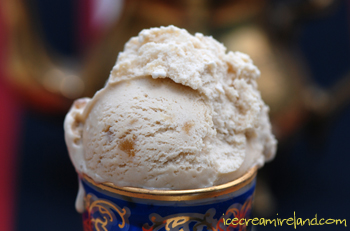 A reader of this blog emailed me asking for a green tea ice cream recipe, so here it is! It's a recipe that will be in the upcoming book, and it's one I love.
In New York, where I grew up, Asian food was part of the staple diet. Whether Japanese, Thai, Vietnamese, Chinese, or Korean, the standard was high and the variety amazing. Some of the best meals I have ever eaten were Asian cooking, and my dessert of choice, when available, was green tea ice cream.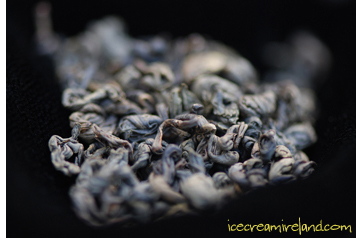 Here in Ireland, I have also come across green tea ice cream in some of the ever-proliferating Asian restaurants, so perhaps you have tried it as well. If so, just be aware that since we don't believe in food colouring, we use green tea leaves (see photo right) and not the matcha (green tea powder) that is usually used for ice cream. This means that it will not be bright green and will have a slightly different taste, but I think it's even more delicious.
For this recipe, I like to add crystallised ginger, a real favourite of mine. I love the spicy sweetness and intriguing consistency of the ginger, and since it's coated in sugar it stays soft in the ice cream.
Murphys Green Tea and Ginger Ice Cream
Ingredients:
130g sugar
5 egg yolks
240 ml cream
250 ml milk
2 tablespoon green tea leaves (4 bags)
60 g crystallised ginger
1 tablespoon honey
What to do:
Heat the milk to a low simmer over medium heat.
Add the tea and honey and maintain at a simmer over low heat for about 10 minutes.
Remove from the heat and remove the tea bags.
Beat the sugar and egg yolks together until thick and pale yellow.
Beat the milky tea into the eggs and sugar in a slow stream.
Pour the mixture back into the pan and place over low heat.
Stir continuously until the custard thickens slightly (around 65-70C) and just coats the back of a spoon. Don't over-heat, though, because at around 76C you will scramble the eggs!
Immediately remove from the heat.
Transfer the custard into a small container, cover, and refrigerate until cool (5C).
Chop the crystallised ginger into small pieces.
Whip the cream until it has doubled in volume (you should have soft peaks – don't over-whip).
Fold the cream (gently stir) into the custard.
Freeze using a domestic ice cream machine, or cover and place in the freezer, stirring every few hours to break up the ice crystals.
Add the ginger once the ice cream has become semi-solid.
If you're using a domestic ice cream machine, transfer to a freezer-proof covered container when the ice cream has achieved a semi-solid consistency (around 15 minutes). Place it in the freezer, and continue to freeze until it is solid.
Yield: 8 servings
Note:
To pasteurise the eggs, heat the custard to 73C and maintain that temperature for at least 5 minutes. Use a cooking thermometer, though, and keep stirring! If the custard goes any higher than 76C, the eggs will scramble. Immediately cover and place in the freezer until cool.
Technorati tags: green tea, ginger, Asian, ice cream, recipe