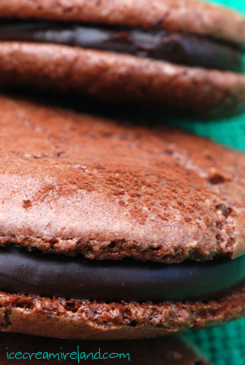 I have given a recipe for meringues here as a solution for what to do with the egg whites after making ice cream. Another possibility is macaroons. Anyone who has been to Paris is sure to have tasted these amazing confections, which rise in pyramids in bakery windows.
The following recipe is adapted from Pierre Herme, although the ganache (filling) is ours. They aren't hard to make, although I sometimes have difficulty in getting them to rise properly (here's a photo of a batch my brother made with a little more height). No matter. They still sure are tasty!
I like a dark cognac ganache filling, and it's actually adaped from Wiebke's (my brother's wife) Sachertorte.
Ingredients:
150 ml egg whites (from ca. 3 large eggs)
250 g powdered sugar
150 g finely ground almonds
25 g unsweetened cocoa + a bit more for dusting
For the ganache filling:
75 g 70% chocolate
25 g butter
50 g golden syrup
1 teaspoon cognac
What to do:
Pre-heat the oven at 150C.
Beat the egg whites until soft peaks form (don't over-whip!)
Sift together all the dry ingredients.
Fold into the egg whites in four additions.
Put a teflon baking mat on the counter, or put a teflon liner (cheap and reusable and should be available at any supermarket) on a baking tray.
Spoon the dough into a piping bag and pipe out half inch to one inch round circles on the baking tray, leaving 1 inch of space around each cookie for them to expand. You can also simply use a spoon.
Try to keep the size of them the same, since you will be using two to make the filled macaroons. I like them small.
Dust with cocoa.
Bake for 8-10 minutes, until the cookies are firm but still pliable.
Place on baking racks to cool.
For the ganache filling, melt the chocolate and butter in a double boiler over (not touching) simmering water.
Remove from the heat and stir in the golden syrup.
Stir in the cognac.
Allow to cool until it is semi-solid, and then either pipe or spoon onto the flat side of a cookie.
Top with a second cookie.
Allow to set before serving, if you have that kind of patience!