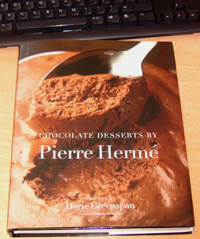 What a fabulous treat awaited today when I returned to my office after first working on fixing up the courtyard, scooping ice cream and then spending a chunk of time bent over the ladies toilet in the Dingle shop replacing the sheared bolts holding down the bowl (ah yes, the joys of business ownership!).
The Pierre Hermé "Chocolate Desserts" book written by Dorie Greenspan was front and centre on my desk. I had ordered it from Amazon after reading about the experiences of cooks working with it on eGullet, but with all the excitement of the Easter rush I had forgotten all about it.
Any chocoholic will salivate simply looking at the pictures. I didn't get a whole heap of work done the next hour. I just leafed through the pages and drooled. I can't wait to get in and try some of the recipes (I noticed one straight away for chocolate crepes. I'll have to try it out and perhaps modify the previous recipe!) Below is his chocolate, coffee, and whiskey granita. Bottoms up!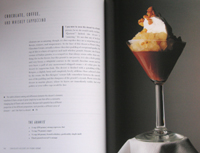 By the way, there is an nice aggregator of food blogs called Food Porn Watch. A peculiar name all right, but worth a look for any foodie. The photos on many of the blogs are sublime. I guess I'll have to up my game!
Technorati tags: recipe, chocolate, crepe, cooking, ice cream, dessert