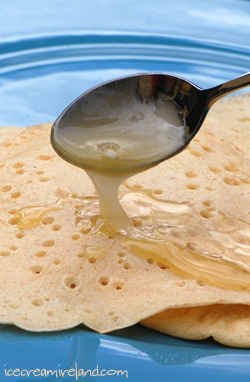 Today is Shrove Tuesday, and while elsewhere in the world people are dancing and singing with Mardi Gras and Carnival, here we eat pancakes. Although I'd much rather be cavorting on the streets of New Orleans or Rio, at least I can console myself with a sweet traditional meal before we head into Lent.
Two years ago at this time, I was in Morocco, and there I came across amazing pancakes called Beghrir. They are served with honey and are oddly pock-marked. Here's a recipe, in case anyone wants a pancake that's as tasty as it is unusual.
Beghrir
Ingredients:
125 g semolina
40 g non-rising flour
150 ml warm water (ca 40C)
150 ml milk
1 egg
1/2 tablespoon dried active yeast
1/4 teaspoon sugar
Pinch of salt
What to do:
Combine the yeast with 50 ml of the warm water and the sugar. Set aside.
Sieve the other dry ingredients.
Warm the rest of the water and the milk in a small saucepan to 40 C.
Beat the egg well and add the warm milk and water, stirring all the time.
Add to the yeast and stir until fully combined.
Stir into the dry ingredients in small parts, mixing vigorously until it is combined and free of lumps.
Cover and allow to rest in a warm place for 30 minutes.
Warm a non-stick crepe pan or sauce pan over medium-high heat.
Pour batter into the pan to make a thin, round pancake.
Cook until the top layer is dry – bubbles will form.
Flip the pancake and cook for another 20 seconds.
That's it! It's ready to eat.
Yield: About 10 small pancakes.
Note: Traditionally these would be eaten with honey mixed with butter and warmed in a pan. The ratio, if you want to try it, is 1 part butter to 4 parts honey. Simply combine them in a pan and cook over medium heat until the butter melts. Remove immediately from the heat and stir until smooth.
Technorati tags: recipe, pancake, beghrir, Shrove Tuesday, Morocco