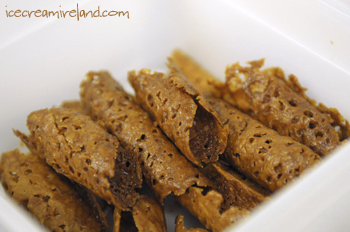 Here are some brandy snaps I made, and if you're looking for an easy baking treat, it doesn't get much easier than this. I rolled these, but you can also leave them flat. They are just as tasty! For good measure, I dipped mine in chocolate… I adapted the recipe from an old Cordon Bleu dessert book. 
Happy Christmas!
Brandy Snaps
Ingredients:
230 gm butter (room temperature)
230 gm sugar
230 gm flour
80 gm golden syrup
2 teaspoons ginger
1 tablespoon brandy
What to do:
Heat the oven to 180C and lightly grease a baking tray. 
Put the golden syrup, butter and sugar in a pan and cook over medium heat until the butter is melted and the sugar dissolved.
Remove from the heat and stir in the flour, ginger, and brandy.
Put small, teaspoon portions on the baking pan, about four inches apart. I used a piping bag, which makes things easier, since the dough is a bit sticky.
Bake for 7 minutes, until golden brown. 
Remove and allow to cool on the baking tray for about five minutes before removing. 
That's it!
If you want to roll them, as I did, butter the handle of a wooden spoon. After you remove the cookies from the oven, leave them for a minute or so (or they will fall apart), then wrap them around the spoon handle, holding them in place until they take the shape. 
If you want to dip them in chocolate, melt about 100 gm chocolate. Transfer to a small cup or bowl. Dip the cookies, and place on a non-stick baking sheet until they are dry. 
Makes about 40 cookies.
Technorati tags: cookie, pastry, chocolate, brandy snap, recipe