Ice Cream Party Round-up
I have to say this has been so amazing for me – to ask for help from the blogosphere and to get it! I am full of warm, fuzzy feelings!
I'm a bit bleary from all the book editing, so if I've left anyone out, please let me know and I will add you!
Thanks, thanks, thanks!
Here are my excellent testers:
- – - – - – - – - – - – - -
Chocolate Gourmand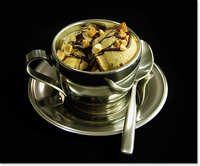 Brian took on the Coffee Kahlua and wrote the most detailed, thoughtful post. Not only did he try it a couple of ways, but he posted (beautiful) photos of every step.
I am seriously impressed!
If you don't know his blog, check it out for sure.
Thanks, Brian!
- – - – - – - – - – - – - -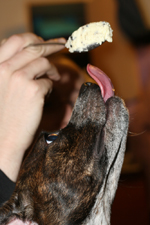 Crazy Delicious
Nicole made the Raspberry sorbet as well as Cookies ice cream to satisfy the hubby who's not a sorbet fan. She had a metric moment, which has come up as a bit of a theme, but she figured out the conversions.
She loved the raspberry and he loved the cookies (even though she added too much vanilla bean, so everybody was happy. It seems even the dog got a lick!
Thanks, Nicole!
- – - – - – - – - – - – - -
Jennifer tried the Cinnamon ice cream. She comments on the metric measures used, but figured out that converting it before writing a shopping list could keep a Mom from crying in the store!
She left the cinnamon stick in longer and liked the result. She would have liked cinnamon specks in the ice cream.
Thanks, Jennifer!
- – - – - – - – - – - – - -
Dave made the Strawberry and Sage ice cream.
He used frozen strawberries, cut down on the sugar and added more sage. Helpful comments.
Thanks, Dave!
- – - – - – - – - – - – - -
Eat Drink Live
Laura made two recipes – fudge and brownies. When words like "salvation" are mentioned, one thinks it was a success!
She did Kahlua brownies and liked the alcohol in it. She feels perhaps she suffered gluttony and promises to sin no more! I hope not, though, because her blog is filled with so many tempting items…
Thanks, Laura!
- – - – - – - – - – - – - -
Endless Pursuit of Life
Tricia took on Cookies ice cream and wrote it up, pointing out the custard-heating process could use more clarification. She used Newman-Os, which is a healthier but still tasty option!
The final product disappeared in record time!
Thanks, Tricia!
- – - – - – - – - – - – - -
Fairy Cake Heaven
Rachel made the Honey Cardamom. She ended up with a kitchen redolent of cardamom and a tasty dessert.
She didn't use an ice cream maker, and the mix separated slightly while it was freezing.
Thanks, Rachel!
- – - – - – - – - – - – - -
Food Rockz
Food Rockz Man made the Honey Cardamom. He pointed out that I should clarify whether to use pre-ground or freshly-ground cardamom since the latter is stronger (he grinds his in a coffee grinder).
He used a double boiler to avoid over-heating the custard, which I found a good idea if you're nervous about temperature.
Thanks, Food Rockz Man!
- – - – - – - – - – - – - -
Lisa made the Cardamom and Cinnamon ice creams. She mentioned that the custard was thinner than normal custards, which is a good point, and I should make sure to add to the book that this is o.k. She substituted grown cinnamon for the cinnamon stick with no ill effects. Finally, she didn't have an ice cream machine, and it's great to know these recipes worked without one.
Thanks, Lisa!
- – - – - – - – - – - – - -
Little Bird Eats
Jen took on the Cinnamon ice cream and added the Hot Fudge sauce to placate her chocoholic Mr. B.
Both were a success, and it seems she had to restrain him from chugging the lot. It's a fun post!
Thanks, Jen!
- – - – - – - – - – - – - -
Roscommon to Imogene
Homebase and Middleson got cooking with no fewer than three recipes! The Extreme Cocoa went down well, and although they had no problems eating the chocolate crust, they suggested it should be less thick for better spreading. They had some trouble with the strawberry and sage – the coulis was too thin and separated. They also suggested metric conversions. A very detailed and helpful post.
Thanks guys!
- – - – - – - – - – - – - -
Stuff yer bake
Sarah made the Cinnamon ice cream AND an apple crumble. What a great pairing.
She liked the fluffiness from whipping the cream, which seems to be a common theme.
Thanks, Sarah!
- – - – - – - – - – - – - -
Susan made the Gelato Alla Crema to go with her "Big, Fat, Greek, Topless Pear Tart."
Not a bad idea, and it seems to have worked quite well.
Thanks, Susan!
- – - – - – - – - – - – - -
Supertaster
Wendi made the Strawberry Sage and Cookies.
She suggested more sage and more cookies. I like that kind of thinking!
Very cool photos.
Thanks, Wendi!
- – - – - – - – - – - – - -
The Humble Housewife
Deborah made the Cookies ice cream after a difficult search for Oreos.
The ice cream making went smoothly and she gave the recipe top ratings.
She also offers a great alternative to the traditional Irish breakfast. No… it's not ice cream!
Thanks, Deborah!
- – - – - – - – - – - – - -
Vivre en Nouvelle-Zelande
The amazing Frederique made two recipes – Coconut and Rum and Extreme Cocoa.
Her Mom chipped in with Manuka Honey and Orange Blossom, and even followed my recipe, which, it seems is a great honour.
She found her's too sweet, with not enough orange blossom. Frederique also found the Extreme Cocoa too sweet, but loved it when she cut down the sugar. The Coconut worked well.
Lots of interesting comments and stunning photos.
Thanks Frederique & Mom!
- – - – - – - – - – - – - -
I also got loads of emails or comments from people who don't have blogs (or are too shy to share them!). Thanks so much to everyone. My three favourite emails are:
Hi Kieran,

I've been reading your blog for several months now and thoroughly enjoy it! Thanks so much for posting your recipes and experiences with the shops. I share the love of ice cream.

I made the cinnamon ice cream with many accolades from friends and family. We all love it. It combines all the best of autumn: spice, cream, dessert. It's certainly addicting, for sure. We tried it with apple pie, as suggested–fantastic. We tried it with a tiny swirl of chocolate (tasted like Mexican hot chocolate…. chilled!). We tried it with spice cake, which matched the flavors, and provided texture and temperature for contrast.

In the end, three of us decided it was the best ice cream we had ever had, and my friends now call me the Ice Cream Queen. All thanks to you!

Sincerely,

Marie, Boise, ID USA
And this from Andrea:
The coconut and rum ice cream is a winner. Toasting the coconut is so important as it adds a lovely textural element. I also used coconut cream (as it was already in the cupboard). Now to critique…
Your sugar measurement is in ml, I presume you meant grams. Also 3/4 cup of coconut weighed 60g on my scales.
The ice cream after 35 min in my ice cream maker was still very soupy, I gave it a couple of stirs while setting in the freezer and ice crystal formation doesn't seem to be a problem. I guess that is the alcohol content (both making freezing slower but helping prevent ice crystals).
My only other comment is a small but picky one. The ingredient list doesn't follow in the order that you need ingredients. Making it easy for someone like me to forget something!
Thanks for sharing a great recipe! Now I have a craving for pineapple sorbet. At least in Darwin it is always ice cream weather…
And this from Karin:
Made the brown bread ice cream. It was a first for us. There is no such thing as brown bread ice-cream in Holland. We loved it, especially with the whisky and chocolate sauce.

My comments:

Your receipt was easy to follow, I tried following it to the letter. I used a gaggia gelateria (self freezing)  machine. Amounts were correct. Temperature was a different thing. No way custard will thicken at 60′C. Tried it with a thermometer. Put the mixture in the fridge to cool and surely, it separated. Put it back in the pan and heated it to 76′C. It was nice and smooth and coated the back of my spoon.

When I use my own method I simply ad a teaspoon of corn-flower when cooking the custard. It prevents it from curdling. Delia Smith I'm afraid, but it works.

Bread in ice-cream was a nice addition. The flavour could have been a bit more outspoken though. The taste of the brown sugar was a bit overpowering. I did use a nice dark brown and course textured bread. Next time I will try roasting the crumbs first and/or reduce the amount of sugar.

Thank you for your wonderful website and ideas.

Hope you find this useful.




Kind regards,

Karin
This entry was posted on Wednesday, November 28th, 2007 at 8:46 pm and is filed under Tips & Tricks. You can follow any responses to this entry through the RSS 2.0 feed. You can leave a response, or trackback from your own site.