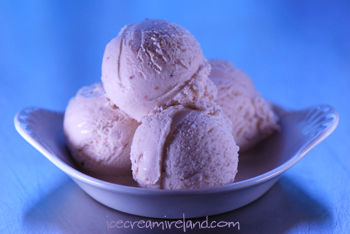 I promised a little while ago to post the strawberry and sage ice cream, which is pretty much sold out in the shops by this point, but anyway, here it is!
Murphys Strawberry and Sage Ice Cream
Ingredients:
1 cup Sugar
5 Egg Yolks
1 3/8 Cups Cream
1 1/8 Cups Milk
1 Strawberry Sage Coulis Recipe
What to do:
Make the strawberry and sage coulis (recipe here)
Beat the sugar and egg yolks together until thick and pale yellow.
Bring the milk to a simmer. Remove from the heat.
Beat the milk into the eggs and sugar in a slow stream.
Pour the mixture back into pan and place over low heat.
Stir until the custard thickens (around 60C).
Allow the custard to cool.
Whip the cream until you have soft peaks. Do not over-whip!
Fold in the custard and coulis.
Freeze using a domestic ice cream machine, or cover and place in the freezer.
12 Servings
Note: To pasteurise the eggs, heat the custard to 73C and keep at that temperature for three minutes. Use a cooking thermometer, though, and keep stirring! If the custard goes any higher than 76C, the eggs will scramble. Immediately cover and place in the freezer until cool.
Technorati tags: strawberry, cream, sage, ice cream, recipe, Irish