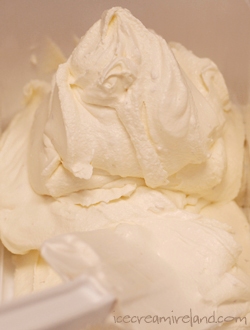 We have a new restaurant customer in Dun Laoghaire, the Gastro Pub, and they requested a coconut ice cream. Being a big fan of alcohol in ice cream, and given that coconut can be overpowered in the mix, I suggested a coconut and Malibu rum ice cream. The recipe is below if you like things coconut…
Murphys Coconut and Rum Ice Cream
1 Cup (237ml) Sugar
5 Egg Yolks
3/4 Cups (175ml) Cream
3/4 Cups (175ml) Coconut milk
3/4 Cups (175ml) Desiccated (dried and shredded) coconut
1 1/8 Cups(266ml) Milk
4 tbs. (65ml) Malibu Rum
1Â tbs. (15ml) Lemon Juice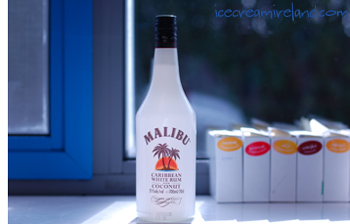 Yield: 6 Servings
What to do:
1. Beat the sugar and egg yolks together until thick and pale yellow.
2. Bring the milk to a simmer.
3. Beat the milk into the eggs and sugar in a slow stream.
4. Pour the mixture back into pan and place over low heat. Add the coconut milk.
5. Stir until the custard thickens slightly (around 70C). Use a thermometer, as at 75C the eggs will scramble!
6. Refrigerate over night.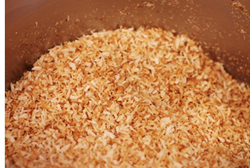 7. Toast the desiccated coconut over medium heat in a dry saucepan, stirring all the time, until they turn a golden colour. Allow to cool.
8. Stir the toasted coconut, rum and the lemon into the refrigerated custard.
9. Whip the cream and gently fold in the custard.
10. Freeze using a domestic ice cream machine, or cover and place in the freezer.
Notes:
1. Coconut milk has all different strengths, so taste it and make sure you're happy with the flavour. You can always add a bit more, but remember there will be more coconut flavour coming from the desiccated coconut and rum.
2. To pasteurise the eggs, heat the custard to 73C and keep at that temperature for three minutes. Use a cooking thermometer, though, and keep stirring! If the custard goes any higher than 76C, the eggs will scramble. Immediately cover and place in the freezer until cool.
3. I haven't tested this recipe for home use, so I would be delighted for any feedback…
Technorati tags: coconut, rum, Malibu, ice cream, recipe, Irish