Ice Cream Party Procrastination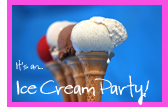 I have started writing up the round-up for the ice cream party, but it will take me a few days, and I'm really under pressure now to finish the book (due this weekend). Since I'm being slack, I'll add anything else that comes in before I post the round up. So, if you still want to take part, see here. I can't thank everyone who tested the recipes enough. There have been so many helpful suggestions!
Technorati tags: test, food event, ice cream, cookbook, recipe
This entry was posted on Monday, November 26th, 2007 at 3:34 pm and is filed under Book. You can follow any responses to this entry through the RSS 2.0 feed. You can leave a response, or trackback from your own site.