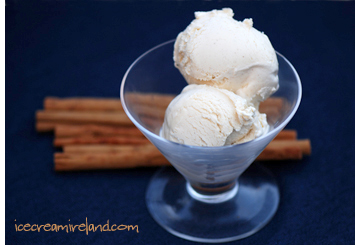 Cinnamon ice cream is a great flavour as we come into winter. It's a warming spice that counteracts the cold. This ice cream also complements so many desserts. Try it on a warm apple pie!
MURPHYS CINNAMON ICE CREAM
Ingredients:
130g Sugar
5 Egg Yolks
220ml Cream
200ml Milk
1 Cinnamon Stick (see note below)
What to do:
Put the cinnamon stick in a saucepan with the milk.
Bring the milk to a simmer.
Remove from the heat.
Beat the sugar and egg yolks together until thick and pale yellow.
Remove the cinnamon stick from the milk.
Beat the milk into the eggs and sugar in a slow stream.
Pour the mixture back into pan, and place over low heat.
If you want a strong cinnamon flavour, add the cinnamon stick back in.
Stir until the custard thickens (around 60C).
Remove the cinnamon stick.
Allow the custard to cool.
Whip the cream and fold into the custard.
Freeze using a domestic ice cream machine, or cover and place in the freezer.
Notes:
1. You can substitute 1/2 teaspoon ground cinnamon for the stick. If you do so, mix it into the sugar before beating in the eggs.
2. You can re-use the cinnamon stick, but make sure you rinse it carefully and let it dry!