Chocolate Crust for Ice Cream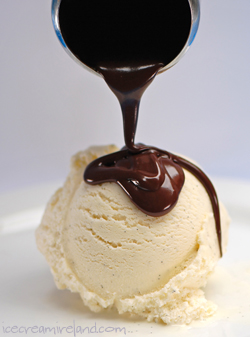 This recipe, from this week's Irish Times article, is a simple way of enjoying great quality chocolate and ice cream together. It is designed to form an unsweetened hard crust on ice cream, and I suggest vanilla, so you don't have competing flavours. The butter is simply to make the chocolate less brittle…
Gourmet Chocolate Crust
Ingredients:
100g high quality, dark chocolate
10g (2 teasp) unsalted butter
What to do:
Melt the chocolate and butter together in a double boiler or microwave.
Stir until fully combined.
Pour over vanilla ice cream.
Enjoy!
Technorati tags: hard, sauce, chocolate, ice cream, recipe
This entry was posted on Saturday, September 1st, 2007 at 3:19 pm and is filed under Candy, sauce. You can follow any responses to this entry through the RSS 2.0 feed. You can leave a response, or trackback from your own site.