Eurotoques and Lots of Food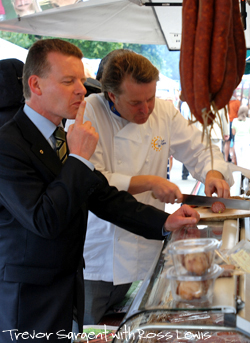 My brother Sean and I headed away last weekend for a conference put on at Brook Lodge in Wicklow by international chefs association, Eurotoques. The topic of the conference was on sustainability and agriculture. Speakers included Minister for State Trevor Sargent, Ross Lewis of Chapter One, Lorcan Cribbin of Bang Cafe, and Matt Cooper.
I met some old friends and acquaintances and had a great time. They laid on a barbeque for lunch, and in the evening we had a immense dinner at the Strawberry Tree, which is Ireland's only certified organic restaurant. The meal was smashing, and Evan Doyle is a great host. Highly recommended!
Technorati tags: Wicklow, restaurant, food, Eurotoques, ireland
This entry was posted on Tuesday, September 4th, 2007 at 10:15 pm and is filed under Ireland. You can follow any responses to this entry through the RSS 2.0 feed. You can leave a response, or trackback from your own site.