Irish Valrhona Suppliers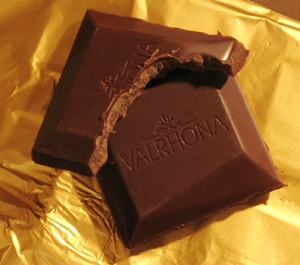 I've written on Valrhona multiple times and mentioned them in the Irish Times article today, promising a list of Irish suppliers. The distributor is Odaios Foods, but following are a list of shops where anyone can go in and buy a bar. Do so. They are fantastic!
Dublin
Baggot Newagents, Upper Baggot St
Bottleworks, Capal Street
Cavistons Deli, Glasthule
Creot Wine, Upper Leeson St.
Donnybrook Fair, D4
Ennis Butchers, Rialto Â
Foodgame, Stillorgan
Foodware Store, Malahide
Fresh at Smithfield
Fresh at Grand Canal
Fresh at Smithfield
Get Fresh, Rathfarnham
Gibneys, Malahide
Laralu, Georges Street Arcade, D2
Mitchell & Sons, Glasthule
Morton & Sons, Ranelagh
On the Grapevine, Dalkey
The Vintry, Rathgar
Elsewhere in Ireland
Brooklodge, Macreddin
Blue Olive, Boreenmanna, Cork
Blessings Off Licence, Cavan
Chocolate Shop, The English Market, Cork
Chocolat, Ennis
Choos and Chocs, Sligo
Deli on the Green, Dungannon
Donnelis Food Emporium, Market Square, Wicklow
French Flair, Kerry Handmade Wines & Food, Waterford
Greenacres of Wexford
Harringtons, Beara
Hollands, Bray
Ilia Gourmet, Mullingar
Jus de Vine, Portmarnock
Le Caveau, Kilkenny
McCambridges, Shop St, Galway
Molloys, Roscommon
Mortons of Galway, Salthill
Murphys Ice Cream, Dingle & Killarney
Patridge Lodge, Gorey
Taste, Castletownbere
Vanilla Grape, Kenmare
Technorati tags: chocolate, Valrhona, suppliers, ireland
This entry was posted on Friday, August 31st, 2007 at 4:09 pm and is filed under Chocolate. You can follow any responses to this entry through the RSS 2.0 feed. You can leave a response, or trackback from your own site.