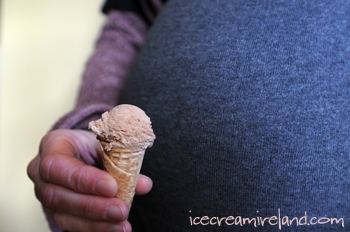 I've been worrying quite a bit lately, since the Venetian, my pregnant partner is not a big chocolate fan. She'll eat white chocolate sometimes, she doesn't mind milk chocolate, but she's does not care at all for the dark stuff. For me, an insatiable chocoholic, the idea of offspring without real chocoholic tendencies was deeply troubling.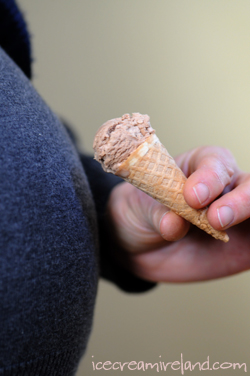 A couple of days ago, J.P. made some milk chocolate ice cream in production, and I brought a tub home. The Venetian ate some, and the baby inside her, normally a gentle soul, went absolutely nuts. It kicked, jumped, and probably did ecstatic cartwheels, such was the commotion in the belly for the next half hour. The Venetian was astonished, and it was the first proud moment for this Daddy (to be). I think there is very little doubt that the chocoholic gene has been passed on.
This is a delicate flavour for those with delicate tastes, when it comes to chocolate. Although we call the ice cream "Milk Chocolate," we actually use 70% chocolate, just less of it. For our tastes, actual milk chocolate puts too much fat into the ice cream.
Murphys Milk Chocolate Ice Cream
Ingredients:
125g sugar
5 egg yolks
1/4 vanilla bean, split lengthwise or 1/4 teaspoon natural vanilla essence
230 ml cream
200 ml milk
60 g bittersweet (70% chocolate)
What to do:
Melt the 70% chocolate in a double boiler over simmering water or a microwave. Take care – chocolate burns easily!
Beat sugar and egg yolks together until pale yellow.
Add the vanilla bean to the milk and bring to a simmer.
Turn off the heat and remove the vanilla bean.
Add the milk to the melted chocolate in small parts, mixing thoroughly until fully combined.
Immediately beat the milk/chocolate into the egg and sugar mixture in a slow stream. Pour the mixture back into pan and place over low heat.  Stir until the custard thickens (around 60C).
Allow the chocolate custard to cool.
Whip the cream and fold into the mix.
Freeze the ice cream using a domestic ice cream machine.
Otherwise, cover and place in the freezer, stirring every few hours to break up the ice crystals.
6 Servings.
Notes:
This ice cream will only be as good as the chocolate you use. Find the best you can!
The boiler or container in which you melt the chocolate must be completely dry or the chocolate can clump.
To pasteurise the eggs, heat the custard to 73C and keep at that temperature for three minutes. Use a cooking thermometer, though! If the custard goes any higher than 76C, the eggs will scramble. Immediately cover and place in the freezer until cool.