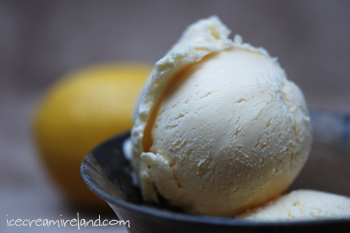 This is a recipe that JP, our production manager, came up with. What makes this ice cream so good is that combination of zest and preserves. I love any kind of citrus zest in cooking – it's brilliant and fresh and can lift almost anything. The preserves add a richness and fullness that can't be found with just lemon juice and zest. If you didn't know what you were tasting, you would recognise lemon straightaway, but there might be some difficulty in placing the earthy undertones that makes this ice cream so distinctive. It's far more complex than any lemon ice cream I have ever come across, and has regular appearances in our scooping cabinet.
MURPHYS LEMON CURD (LÍOMÓID) ICE CREAM
Ingredients:
• 130 g sugar
• 5 egg yolks
• 240 ml cream
• 200 ml milk
• 50 g lemon curd
• Zest (grated peel) of one lemon
• 15 ml (1 tablespoon) lemon juice
What to do:
1. Beat in the egg yolks with the rest of the sugar until thick and pale yellow.
2. Bring the milk to a low simmer.
3. Beat the milk into the eggs and sugar in a slow stream.
4. Pour the mixture back into the pan and place over low heat.
5. Stir continuously until the custard thickens slightly (around 65-70C) and just coats the back of a spoon. Don't over-heat, though, because at around 76C you will scramble the eggs!
6. Immediately remove from the heat.
7. Add the lemon curd to the warm custard, stirring until it is dissolved.
8. Add the lemon zest.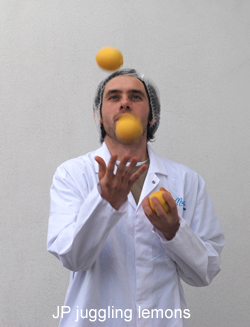 9. Cover the custard with plastic wrap and refrigerate until cool overnight.
10. Strain the lemon zest from the cool custard (unless you like it in there).
11. Whip the cream until it has doubled in volume (you should have soft peaks – don't over-whip).
12. Fold the cream (gently stir) into the custard.
13. Add the lemon juice.
14. Freeze using a domestic ice cream machine, or cover and place in the freezer, stirring every few hours to break up the ice crystals.
15. If you're using a domestic ice cream machine, transfer to a freezer-proof covered container when the ice cream has achieved a semi-solid consistency (around 15 minutes). Place it in the freezer, and continue to freeze until it is solid.
Yield: 8 servings
Notes:
1. To pasteurise the eggs, heat the custard to 73C and maintain that temperature for at least 5 minutes. Use a cooking thermometer, though! If the custard goes any higher than 76C, the eggs will scramble. Immediately cover and place in the freezer until cool.
2. This is one of the recipes in our book.