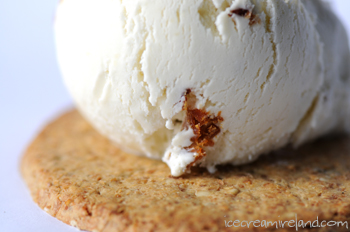 OK – gentle readers – before you throw a tantrum, and yell "What???? Blue cheese ice cream?" I will tell you a story. A couple of weeks ago, my brother and I were discussing the book launch, when he suggested we support Irish cheesemakers by serving up some of the excellent cheeses that Ireland increasingly has to offer. I have to admit I lost the head a bit, since the idea of serving something savoury at the launch of an ice cream and dessert book simply struck me as wrong. I departed in a huff.
The next day, however, I began thinking some more about what Sean said, especially since he usually is right. The idea of highlighting an Irish cheese or two was certainly appealing. Sean and I talked some more and decided that a cheese ice cream would make us both happy. Blue cheese, Sean suggested, might be the most interesting. I had heard about blue cheese ice cream being made in the UK, but had never tried it, and a chef we know had once suggested a cheese and caramelised shallot ice cream. So… I started playing.
I like the result, but the rest of production is split 50-50. I think it's not something for everyone, but if you want to try something different, it might be for you.
And if you want to taste it without making it, come along to Murphys Ice Cream Killarney tomorrow evening for the book launch, or head to Dingle on Thursday. It will certainly give people something to talk about!
Murphys Blue Cheese and Caramelised Shallot Ice Cream
125g sugar (for custard)
2 tablespoons sugar (for shallots)
5 egg yolks
210 ml cream
200 ml milk
50 g mild blue cheese (I used Wicklow Blue)
2 "banana" shallots, peeled
1 tablespoon butter or oil
Yield: 6 Servings 
What to do: 
Quarter the shallots lengthwise and then chop into fine pieces.
Fry over medium-high heat with the butter, stirring constantly until the are golden.
Stir in the 2 tablespoons of sugar and continue to fry until the sugar has melted and the shallots have turned a dark golden brown.
Spread on a tray to cool.
Beat the rest of the sugar and egg yolks together until thick and pale yellow.
Bring the milk to a low simmer.
Beat the milk into the eggs and sugar in a slow stream.
Pour the mixture back into the pan and place over low heat.
Stir continuously until the custard thickens slightly (around 65-70C) and just coats the back of a spoon. Don't over-heat, though, because at around 76C you will scramble the eggs!
Immediately remove from the heat.
Allow to cool completely.
Break up or chop the blue cheese and put in a blender with half of the custard – pulsing until smooth.
Stir the blue cheese/custard mix back into the rest of the custard, cover, return to the refrigerator and allow to sit for at least two hours.
Whip the cream until it has doubled in volume (you should have soft peaks – don't over-whip).
Fold the cream (gently stir) into the custard.
Freeze using a domestic ice cream machine, adding the carmelised shallots when the ice cream is already quite solid.
Otherwise, cover and place in the freezer, again adding the shallots when it has become semi-solid.
If you're using a domestic ice cream machine, transfer to a freezer-proof covered container when the ice cream has achieved a semi-solid consistency (around 15 minutes). Place it in the freezer, and continue to freeze until it is solid.
6 Servings.
Notes:
This ice cream will only be as good as the blue cheese you use. Find one you like! 
To pasteurise the eggs, heat the custard to 73C and keep at that temperature for three minutes. Use a cooking thermometer, though! If the custard goes any higher than 76C, the eggs will scramble. Immediately cover and place in the freezer until cool.
Technorati tags: blue cheese, shallots, caramel, ice cream, recipe