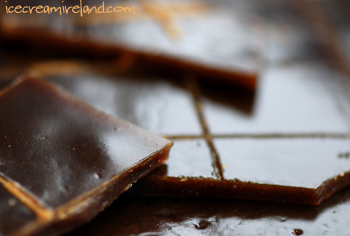 I'm in a sweet frame of mind, and here's a toffee I love to munch on. It's also used in our Toffee Ice Cream, and I'll put up the recipe for that in due course. I always love making candy, because I find it such a miracle that sugar can transform itself so radically.
This toffee is very dark and rich, since the recipe calls for dark brown sugar, and one inevitably eats far too much of it. One can, of course, make it with light brown or even regular sugar, but I like the deep flavour of the molasses contained in dark brown sugar.
Ingredients:
150 g butter
200 g dark brown sugar
50 ml water
1 teaspoon golden syrup
What to Do:
Butter a small baking dish.
Combine all of the ingredients in a thick-bottomed saucepan.
Stir over medium heat until the ingredients are combined.
Turn up the heat and stop stirring.
It will start boiling.
If it starts smoking around the edges, stir gently in a circle around the edge to keep it from burning.
Check if it's ready by dropping a bit of the toffee in a cup of cold water. It should be firm but not hard to the touch.
Immediately remove from the heat and pour into the buttered baking dish.
Allow to cool somewhat.
When it's mostly hardened, score it with a knife to make it easier to break.
Allow to cool completely, break up and enjoy!
Notes:
A word of caution – caramelised sugar is very, very hot, so please take care when making this!
Make sure the pan is very clean before you start. If there is residue already on the pan, it is more likely the candy will burn.
The final product will have the consistency of the bit you drop into the cold water. If you like your toffee soft, take it off the heat when it forms a soft ball when dropped in the water. If you like your toffee hard, keep cooking and take it off the heat when it forms a hard ball in the water.