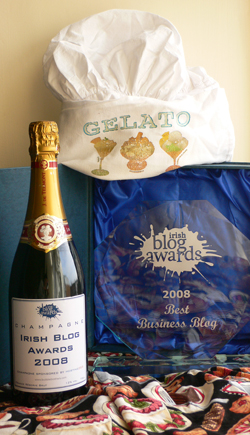 In the very unlikely event that you weren't there and the suspense was killing you – yes – I did wear the entire get-up to the awards list night – white wellies, chef's hat, dessert-print trousers and all. At least everyone knew who I was, although the funniest thing about it was when I was in the lift heading up to my room, an elderly Scottish couple staying in the hotel smiled at me sympathetically and said, "You're only just finished? It's a tough job. I bet you have to cook our breakfast as well tomorrow!"
The night was great, I was honoured to win Best Business Blog, but what really made the evening special meeting and chatting with so many other brilliant bloggers including Frank (thanks for the drink), Simon (congrats), Paul (thanks for sponsoring), Grannymar (congrats), Laura, Sinead (congrats), Manuel, Shane (congrats), Rick (congrats and well done on the night) Copernicus, Deborah (so sorry I won't make brunch), Jen, Martin, Val (thanks for the drink!), Granddad (congrats), Feebee, Krishna, Markham and so many others that I'd be here all day!
Congrats to all the winners, and thanks so much to Damien and everyone who put on such a great night.
P.S. Thanks also to George Bush for the introductions of each category. (See here).
P.P.S. There are photos here and here.
Technorati Tags: Irish, Blog+Awards, Dublin, 2008