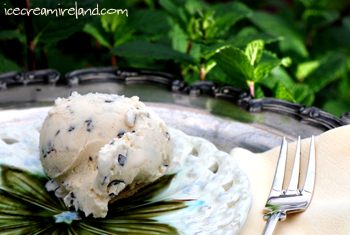 With the weather finally warm, it's a perfect time for mint ice cream. This is a flavour that helped define my childhood – it was definitely my favourite for many years. It's fresh and cooling, smooth and has a bit of chocolate for a satisfying crunch. It's also one of the flavours you will find in our book!
I'm such a mint fan, that I like mint in just about anything. There are two types of mint growing in my garden, even though I'm not much of a gardener, and on a summer's day I relish a minty treat of some description or a cooling drink made with the fresh leaves. If you have mint in your own garden, pick some for this recipe. If not, buy a bundle of fresh mint. Mint extracts are extremely volatile, difficult to control, and generally too aromatic for the palate, so fresh mint is definitely my recommendation.
Murphys Mint Ice Cream with Chocolate Shavings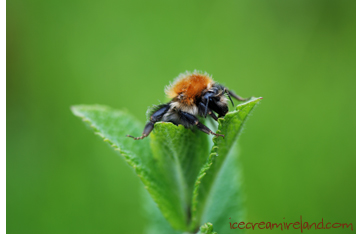 Ingredients:
130g sugar
5 egg yolks
240 ml cream
220 ml milk
10 g fresh mint leaves
20 g chocolate
What to do:
Put the mint and the milk in a saucepan and bring to a simmer.
Remove from the heat.
Beat the sugar and egg yolks together until thick and pale yellow.
Beat the milk into the eggs and sugar in a slow stream. Don't worry if bits of mint go in as well.
Pour the mixture back into the pan, with the mint still in it, and place over low heat.
Stir continuously until the custard thickens slightly (around 65-70C) and just coats the back of a spoon. Don't over-heat, though, because at around 76C you will scramble the eggs!
Immediately remove from the heat.
Transfer the custard into a small container, cover, and refrigerate until cool (5C).
Use a sieve to strain and remove the mint leaves.
Create chocolate shavings using the chocolate and a grater or vegetable peeler.
Whip the cream until it has doubled in volume (you should have soft peaks – don't over-whip).
Fold the cream (gently stir) into the custard.
Freeze using a domestic ice cream machine, adding the chocolate shavings when it's fairly solid.
You can also just cover and place in the freezer, stirring every few hours, and again, add the chocolate shavings when it's reasonably solid.
If you're using a domestic ice cream machine, transfer to a freezer-proof covered container when the ice cream has achieved a semi-solid consistency (around 15 minutes). Place it in the freezer, and continue to freeze until it is solid.
Notes:
To pasteurise the eggs, heat the custard to 73C and maintain that temperature for at least 5 minutes. Use a cooking thermometer, though! If the custard goes any higher than 76C, the eggs will scramble. Immediately cover and place in the freezer until cool.
Instead of creating chocolate shavings, you can also melt the chocolate and pour it into the ice cream machine as its turning.