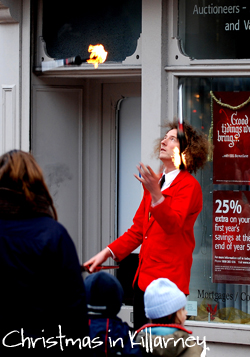 This morning in Dingle, we had the Radio Kerry mobile broadcast unit in town to highlight Dingle's Christmas shopping options.
Good as this was, it was amazing to go to Killarney this afternoon to visit our shop and see Christmas in Killarney in operation. That town operates on a totally different level, and it's very impressive.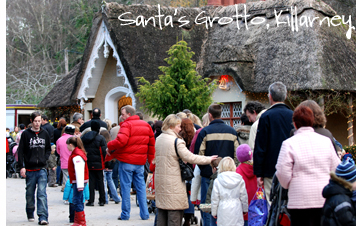 Not only are there numerous events including markets, dancing competitions and a skating rink, but I came across a fire juggler (photo above) and other entertainments. They know how to throw a party.
In the national park, the committee had set up a Santa's grotto, with a twist. Kids could go in and visit Santa, but instead of receiving gifts from the man in red, they BROUGHT gifts for children less well off than themselves. There was a huge line of people waiting their turn to deliver presents – quite a heart-warming spectacle.
Technorati tags: Christmas, Killarney, shop, ice cream, Kerry