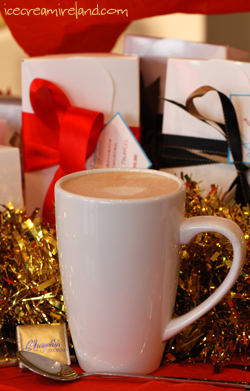 Following on from the Winter Hot Chocolate, here's an idea for the holidays – you can create spiced sugar to serve with coffee to your guests and loved ones for the entire holidays.
This was Sean's idea, and he was going for a variation on a gingerbread taste to create a Christmas Latte (photo above) for our shops. The dark brown sugar makes it really tasty. Of course, as I have said, it could work in any coffee, or could even simply be added to warm milk for those off caffeine.
I am going to suggest all ground spices (as opposed to fresh) so that it will still taste good on New Year's if you make it in the next week!
Spiced Brown Sugar for Coffee
Ingredients:
1/4 teaspoon ground nutmeg
1 teaspoon ground ginger
1 tablespoon + 2 teaspoon ground cinnamon
500 g dark brown sugar
What to do:
Simply combine the spices and the sugar and mix very well.
Add to coffee according to taste.
Technorati tags: coffee, spice, sugar, christmas, latte, holiday