Christmas in Killarney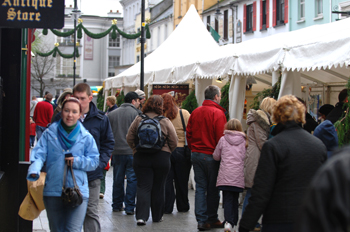 I spent today in Killarney, where "Christmas in Killarney" is in full swing. I really have to hand it to the South Kerry town – everyone pulls together on such events and the community spirit is immense.
They blocked off Main Street and had food markets and other traders (on again tomorrow and in two weeks time), and there was quite a buzz, in spite of the gales. The festival committee had also set up a charity kitchen/service area, and that's where I was – giving away ice cream and hot chocolates for charity. And before you say anything – yes, people do eat ice cream in such cold conditions!
A day well spent, and I think I have a new dark hot chocolate (might appeal to Markham), and it certainly was a hit with the crowds, but more on that later…
Technorati tags: Christmas, Killarney, shop, ice cream, Kerry
This entry was posted on Saturday, December 8th, 2007 at 10:03 pm and is filed under Holidays, Killarney. You can follow any responses to this entry through the RSS 2.0 feed. You can leave a response, or trackback from your own site.