Hot Chocolate for a Cold Day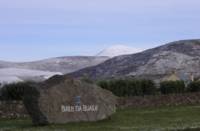 I shouldn't be in the office on a Saturday, but it's snowing outside, and besides the plumber and refrigeration guy have come to try to fix our water chiller, showing such diligence on a Saturday, that here I am.
A couple of days ago, I found a blog called The Big Drought that made a mention of this site, and he talked about the hot chocolate he drank in our shop.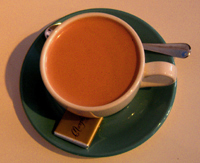 Given the weather, and given the fact the fellow's off drink for the year, I thought I'd give up the recipe for our bittersweet hot chocolate.
It's thick, rich, and not for the faint-hearted!
The ingredients are simple, but the process is important if you want a smooth result.
Murphys Bittersweet Hot Chocolate
125 g chocolate (good quality 70%)
500 ml milk
45 gm sugar (2 tablespoons + 1.5 teaspoons)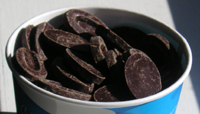 1. Melt the chocolate in a double boiler or microwave.
2. Heat the milk and sugar together to about 45C and make sure the sugar is dissolved.
3. Add the warmed milk to the melted chocolate in small parts, mixing all the time, to create a smooth emulsion.
4. Warm to drinking temperature (55C).
5. Garnish with grated chocolate and/or whipped cream and enjoy!
Four servings.
Notes: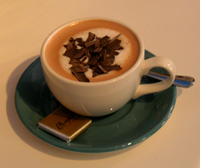 1. The quality will really depend on the quality of chocolate that you use. I suggest Valrhona, Callebaut, or Lindt dark chocolate.

2. The amount of sugar will vary depending on the chocolate. Obviously you can add more if you want it sweeter. Adding less won't necessarily make it more "chocolate-y" as the taste buds need some sweetness to bring out the flavour of the chocolate.

3. See also Chocolate and Chocolate Sauce

Technorati tags: hot chocolate, chocolate, hot, ice cream, recipe
This entry was posted on Saturday, March 4th, 2006 at 4:36 pm and is filed under Drinks. You can follow any responses to this entry through the RSS 2.0 feed. You can leave a response, or trackback from your own site.