Festival Fiesta!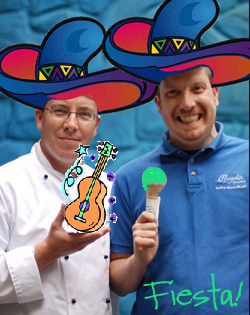 Sean and I have been talking about what we're going to do for the Food Festival in October. Last year, we took out all of our regular ice creams and did 16 shades of chocolate. We're thinking this year we might go with 16 Mexican flavours. It is, after all, the home of both chocolate and vanilla, and there are all sorts of tasty treats such as cajeta. I'm thinking a tequila and lime sorbet, Aztec chocolate, and perhaps a guacamole ice cream served with tortilla chips. That's just for starters… Any ideas welcome!
Technorati tags: fiesta, ice cream, food festival, Dingle
This entry was posted on Wednesday, September 3rd, 2008 at 6:53 pm and is filed under Dingle. You can follow any responses to this entry through the RSS 2.0 feed. You can leave a response, or trackback from your own site.