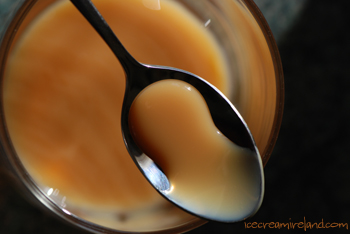 I made one of the tastiest things I have in a while – Cajeta. Similar to Dulce de Leche, this Mexican treat is made by reducing goat's milk with cinnamon and sugar until it caramelises.
The recipe I used was out of Rick Bayless' excellent book, Mexican Kitchen. The result was thick, creamy, and utterly delicious.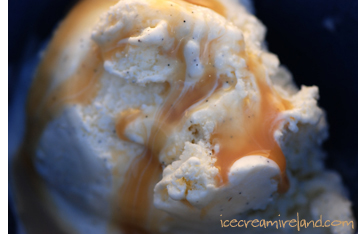 In fact, I have never made anything from that cookbook that wasn't fantastic (as long as I could get my hands on the ingredients, which isn't easy in Ireland!)
If you want to try it, there is a recipe here or here.
We ate it mostly over vanilla ice cream (see right), and it disappeared pretty quickly, I can tell you. Ausra, from our Dingle shop found an excellent use for it – a Cajeta Latte – a Mexican twist on a caramel latte. Yum!
Technorati tags: caramel, cajeta, recipe, goat's milk, cinnamon, dessert